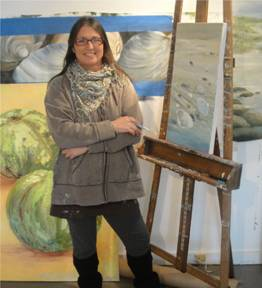 "Art has been an integral part of my life since childhood. My mind is rarely still, as inspiration is everywhere, in every moment. A constant state of study and contemplation feeds my work and my need to explore beyond the reality of what is, to imagine the infinite possibilities of what could be. It is through creating art that I find a fragile and necessary balance between focus and distraction, reality and imagination." - Cristina Reverdy
C
ristina Reverdy has spent more than 30 years making a living through her art.
Her belief that anything is possible, her infinite curiosity, and a fearless approach contributes to the variety of her accomplishments. Her versatility and eagerness to collaborate with customers, community organizations and design professionals have led to her success not only as a visual artist but as a creative consultant on numerous projects.
Although painting has been her primary and most consistent focus through the years, Cris is driven by a need to explore and experiment with new materials. Her passion for pushing beyond the boundaries of conventional use and application, is most apparent in her sculptural work.
Over the years, Cris has been involved in numerous fundraisers and community efforts. She is co-founder of Project Arts of Plymouth, the Plymouth Community Art Center and was co-owner, of Yellow House Studio in Plymouth. She owned and operated Studio Brush Gallery in Sandwich for eight years, and served as creative director for Cape Cod Can!, A non profit organization that brings art programs to people living with disabilities. Most recently, Cris has enjoyed her role as scenic artist and theatrical set designer for several shows at Cotuit Center for the Arts.
Cris currently works out of her home studio in Sandwich.